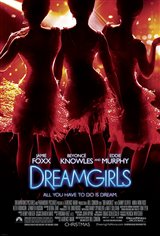 Dreamgirls
112 Reviews
|
Write a Review
In Theaters: December 15, 2006
3.95/5
Based on 9541 votes and 112 reviews.
55.89%

18.77%

5.64%

3.87%

15.82%
Please rate between 1 to 5 stars
Showing 1-10 of 112 reviews
January 26, 2019
FANTASTIC
December 20, 2008
Beyonce delivers!!!
December 19, 2008
Ultimate Dreamgirl Beyonce Knowles won a richly-deserved Academy Award for her amazing performance.
October 17, 2007
Beyonce is magnificent!!!
August 30, 2007
An otherwise knockout movie musical is nearly capsized by the hefty and overbearing girl from America's Got Talent.
August 23, 2007
If you loved "High School Musical," you'll like "Dreamgirls!"
July 6, 2007
I understand that in addition to his role as James "Thunder" Early, Murphy was also intent on playing the Beyonce and Jennifer Hudson characters, which may have been more interesting.
May 13, 2007
GOD WILL THE SINGER NEVER END?!?!? yes i know it was a musical BUT did they have to sing practically everything written on the script? It got so bad that my boyfriend and i began to make jokes and predictions of when we thought another song would sprout. Good movie, but gosh, they couldve cut a bit of those songs!
May 7, 2007
Good Musical...would be an interesting play to watch in person...but as a movie...ahhh. Even my wife (who loves Musicals) said there was too much siiiiiiinnnnnnnggggggiiiiinngggggg. Theeyyyy sa_ng everrrry....thing. And the end.....you guessed it, very predictable.****'s
April 16, 2007
Beautiful is all I can say.