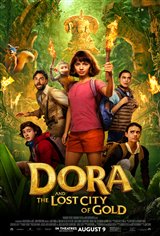 Dora and the Lost City of Gold
| 32 Reviews
Write a Review
In Theaters: August 9, 2019
On DVD/Blu-ray: November 19, 2019
PG | Family | 1h 42m
4.65/5
Based on 1828 votes and 32 reviews.
Please rate between 1 to 5 stars
Showing 21-30 of 32 reviews
August 16, 2019
I grew up with Dora, and I loved her, but the older I got the more I grew out of liking it. Then Dora and Friends came and I was into it for a while, but I grew out of it again. So this is just the kind of thing that I needed to revive my love for Dora.
August 15, 2019
Just be prepared - this is a KIDS movie. Great for young kids and their parents. I went with just adults, thinking it would be like Jumanji. Definitely not - very cheesy. Not for adults - but great for young kids.
August 15, 2019
AWESOME POPCORN MOVIE
August 13, 2019
Great movie. For all the family
August 13, 2019
Dora & the lost City of Gold gets to compete with Indiana Jones - Lara Croft & Benjamin Gates of National treasure by her Archaeologist parents in raiding an old temple & seeking lost treasure in a new & fun way meant more for the younger generation & those young at heart & having a youthful outlook on these kind of things! Much like the The Goonies meeting Allan Quatermain & the Lost City of Gold, just a fun movie all away around & Isabela Moner was perfect as Dora & the kids will most likely love this fun romp in the jungle!
August 12, 2019
Brought 2 teenagers and 4 kids to this movie and we all absolutely loved it. It was so funny and uplifting.
August 12, 2019
AWESOME SOUNDTRACK
August 11, 2019
ONE WORD...............AWESOME!!!!!!!!!!!
August 10, 2019
Hello! Dora is supposed to be a kid she's short and chubby! NOT a teenager! ??
August 9, 2019
GREAT POPECORN MOVIE AND TWO THUMBS UP!!!!!