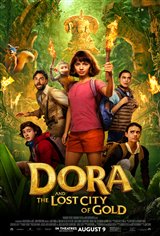 Dora and the Lost City of Gold
| 32 Reviews
Write a Review
In Theaters: August 9, 2019
On DVD/Blu-ray: November 19, 2019
PG | Family | 1h 42m
4.66/5
Based on 2000 votes and 32 reviews.
Please rate between 1 to 5 stars
Showing 1-10 of 32 reviews
November 8, 2019
Amazing good for all ages !!!!!
September 22, 2019
love it
September 21, 2019
It was a wonderful movie for the whole family.
September 18, 2019
it was a fun movie
September 3, 2019
What a sad waste of opportunity for a adventurous children's movie or a super funny children's movie to poke fun at the Dora of old. As an adult of older kids who had watched Dora with them we were excited to see the live action but only disappointed by the end product.
September 2, 2019
I was so surprised how much I loved this movie!
September 1, 2019
AWESOME #DORA
August 31, 2019
I give this movie a 1,000/1,000 STARS
August 30, 2019
Two stars for adults and 4 stars for the under 16 audience. Nothing really exciting here. The problem is the film never really gets scary or serious like in the opening of The Raiders of the Lost Ark. I suppose what I would dream of would be something more like a live version of The Mysterious Cities of Gold from the 1980's anime hit. The other problem with this film is Isabel Moner is just too old to play the part of Dora- she looks like an adult in the film where you feel like Dora should be close to 13 or 14 and having Moner trying to play down to the age of Dora in the film is never convincing. My advice, if you have kids under 13 looking for a fun Summer film take them-if you are an adult, skip this film.
August 26, 2019
This was really good. I liked it a lot.