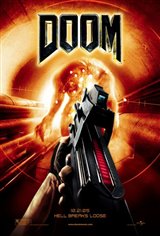 3.8/5
Based on 1576 votes and 81 reviews.
Please rate between 1 to 5 stars
Showing 1-10 of 81 reviews
July 9, 2017
The Rock is a great actor.
July 3, 2017
A great movie base on a classic game.
August 23, 2006
y were there no demons? and y weren`t the imps crawling on the walls. what happened to hell? was this based on the game? i thought is was a -100000000000000000000000000000000000000000000000000000000000000000000000000000000000000000000000000000
August 23, 2006
man o man was this movie a waist of my time. i seen better.if i wanted to watch a game i would have watched my little bro
August 23, 2006
So what was doom about? a genome. What is the Game About? A soldier going to hell to save humanity. which 1 is better. the game for. you know y? because there is so much stuff that didn`t make any scense at all in the movie. but while playing the game... well lets just say the game Owned, crushed, and made the movie wish it was never made.
August 22, 2006
what a toasted movie. the BFG isn`t blue the plasme gun is... i like the gun effect though but i still want to give it a 0
February 8, 2006
Maybe Doom didn`t follow the pc game line but for a action si-fi movie the sound in 5.1 DD was great,it was all over the room. I`ve seen a lot worse movies. If your not a big Doom fan & you like si-fi movies get Doom. If you have 5.1 sound you`ll love Doom. "LOTS OF BLOOD & GUTS" So don`t be a ass,put it on late at night when the kids are in bed!!!
January 6, 2006
HAHAHAHAHA! I watched this movie because i got a free pass. I feel sorry for anyone who paid money for this. Because they were either brainwashed, kidnapped, missing brain cells, drunk, got lost, or a combination of the above. Absolutely trash, like the kind you find at the bottom of a Macdonalds bin. Games to movies have been done well. But the makers of this movie didn`t know that and decided to follow the route of House of the Dead and Alone in the Dark, by making a BASAAAAAD movie. Downfalls, acting, story, the only redeeming factor is that some of the creatures are neat. Hard to make a good movie out of "cool" monsters though. P
January 1, 2006
It was great, this was the best movie ever I really loved when Frodo was bitten by the spider.. wait that was the movie in my head.. okay this was Quake or Doom or something, it made me want to chew my fingers off and to distract the pain was to replay another movie in my head. Owwwwww the pain.
December 5, 2005
It`s not bad... dialogue could`ve been better... mostly everything was explained: how the monsters go there; who was effected; why this happened. Satisfactory special effects. Adapatation of the game is horrible, but as a stand-alone action-thriller it meets all the necessaries. Much like Final Fantasy: The Spirits Within, the movie had little or no relation to the game itself. You have to understand that there are certain things in a game that doesn`t make a good adapatation for a film. The editors and directors modify the storyline for a reason. If there was a movie based on Halo, I`m sure ALOT would be left out. Doom took roughly 10+ ho