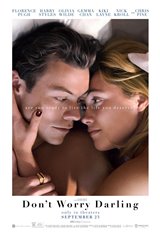 Don't Worry Darling
| 44 Reviews
Write a Review
In Theaters: September 23, 2022
On DVD/Blu-ray: November 29, 2022
R | Thriller | 2h 3m
2.91/5
Based on 106 votes and 44 reviews.
Please rate between 1 to 5 stars
Showing 1-10 of 44 reviews
November 14, 2022
I was hoping for better! A bit weird, with unanswered questions.
November 13, 2022
Weird and boring the pacing was just terrible and made no sense whatsoever........ I didn't walk out I was at the drive Inn I just started my car and drove away special watching another terrible movie called black Adam
October 31, 2022
A stellar thinking movie. If you want a brainless flick wheee u don't have 2 think, this not for u. Refreshing twist on plot turns. Anyone who seen it & not like it is something "special" ha!
October 31, 2022
Loved the sex scenes, hot & spicy with kicking drama twist
October 31, 2022
Super twist, keeps you on your seat
October 31, 2022
Wow. Started off like blaze and then, in mystery drama thriller Hitchcock style, totally amazing!!!!! Great flick to dissect and discuss afterwards I would totally se rot again in the theaters
October 30, 2022
. Unless you like movies like the stepford wives. I mean really disappointing. I spent most of the movie wondering if I should walk out NOW. I stayed until the end however.
October 29, 2022
Just stupid a waste of oxygen.
October 23, 2022
If I could give this movie a 0 star rating I would! A movie about non consensual relationships/ intimacy? Plot wasn't good either, I was bored the whole time! Actors were good, but other than that terrible movie!
October 23, 2022
As someone who watched the movie from a fan's perspective I think Harry's acting was quite enjoyable. As always Florence was astounding and I think she played the role of Alice perfectly. I've seen many people saying there were unanswered questions though I have to disagree. I think if you truly payed attention everything started to fall into place once you found the connections between the events. One thing I enjoy about psychological thrillers such as Don't Worry Darling is that they always leave room for theories and the viewers get to delve into all the little bits. It's psychological you're supposed to have questions. All in all I enjoyed the movie and would recommend it.