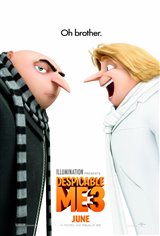 Despicable Me 3
| 39 Reviews
Write a Review
In Theaters: June 30, 2017
On DVD/Blu-ray: December 5, 2017
3.51/5
Based on 166 votes and 39 reviews.
Please rate between 1 to 5 stars
Showing 1-10 of 39 reviews
December 11, 2019
good movie and is the best out of the three all 5 stars.
February 4, 2018
Just not as funny as the other ones.
January 15, 2018
My kids enjoyed the movie. They told me the movie was awesome and very funny.
November 13, 2017
It's not Shakespeare, BUT Then it wasn't meant to be. Its a kids show that most adults can enjoy too. The first one was best, because it was first and had the hardest part; establishing the characters and the world around them. I will be buying it on Blu-ray.
September 11, 2017
What's not to like - Gru, minions and villains. Even better than the old school Saturday morning cartoons l remember watching long ago.
August 21, 2017
Loved the other ones - this was disappointing - just not funny for kids or adults
August 15, 2017
Pretty good clean fun. Mostly suitable for most audiences Not as funny as the first.
August 2, 2017
Sorry about the Grandmother that passed away.
August 2, 2017
Amazingly funny!!!
July 30, 2017
This Movie was so HILARIOUS and I Absolutely LOVED IT!! I took my 87yr old Grandmother to go see it with me. Little did I know she would freak out when she found out they were also playing the french version of this movie in the same damn theater.. This startling news came to no surprise to me however my Grandmother was hit hard. at 6:07pm earlier tonight on July 30th 2017. My Grandmother passed away from a stroke that was induced from the existence of this movie playing both versions in the same theater I'm pressing charges so don't you dam kids expect a despicable me 4 cause they will be broke after I'm done sueing them all