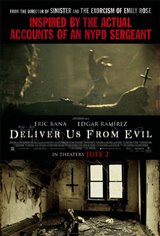 Deliver Us From Evil (2014)
14 Reviews
|
Write a Review
In Theaters: July 2, 2014
3.85/5
Based on 42 votes and 14 reviews.
45.00%

20.00%

15.00%

15.00%

5.00%
Please rate between 1 to 5 stars
Showing 1-10 of 14 reviews
May 22, 2016
Could've been so much better!!!
October 30, 2014
incredable movie a def must see
July 16, 2014
Very entertaining
July 14, 2014
Terrible movie.
July 9, 2014
I was expecting the typical crap from horror movies that come out these days. I was pleasantly surprised this movie had a good story line and scary parts were relevant to the plot. The ending made sense and it didn't leave the viewer frustrated with a dumb cliffhanger ending.
July 9, 2014
A joke from beginning to end. Bana and Mchale are good, but everything other aspect of the movie was weak. I can't imagine how trained film-makers could go through the whole process of making this moving and be like,"This is good guys. We got this!" Pathetic.
July 9, 2014
The movie is interesting, Eric Bana drives it well but it terms of horror, not much there. Not enough pop-ups, scary moments or eeriness. A thriller at best. Watch it at home.
July 9, 2014
Excellently scary. White knuckled the whole time
July 8, 2014
Movie had its slow parts but was worth the watch. Some unsettling moments with regards to possession should you choose to believe in them or not, end scene was very well done, and lots of jumpy moments throughout. If you hate clowns or music boxes this isn't the movie for you.
July 8, 2014
I love horror movies. This one had its sit on the edge parts. However the acting was poorly done