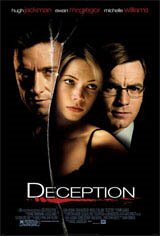 4.06/5
Based on 627 votes and 12 reviews.
Please rate between 1 to 5 stars
Showing 1-10 of 12 reviews
May 22, 2012
awesome thriller - jackman is great in this film!
January 25, 2010
Good movie. Lots of intensity. Great actiong. the only problem was that the ending sucked - the alternative ending on the DVD was far better. Hugh Jackman plays a good "bad guy".
August 15, 2008
A good movie worth mentioning. Also a great cast. Look for more of my reviews. E.B.A.
May 12, 2008
deception, it depends of the point of view, this wknd I saw that movie again..ur correct..there are better movies, with better actors
April 30, 2008
poor acting.... slow begining....very predictible....not a very good movie overall. Go see something else.
April 30, 2008
When I first saw the trailer for this movie, I thought it was going to be an excellent movie. And I wasn't disappointed. This is the best psychological thrillers to come out of Hollywood in a LONG time. I'm usually good at predicting the outcome of most movies, but the twists in this one kept me guessing from beginning to end when the storyline pretty much just turned to me and said, "HEY! I'm over here!" A solid 4-stars from me.
April 29, 2008
awesome movie!!! original and interesting. if you are a real movie buff, this is for you. if you are expecting car chases and loads of guns (like some of the other commenters who don't know what a good movie is) then it is not for you. For the mature movie connoisseur, this is a keeper!
April 26, 2008
Hugh Jackman great villain.
April 26, 2008
Not a good movie. Don't waste your time with this one.
April 26, 2008
I really did not enjoy this movie at all. I wouldn't recommend it to anyone.