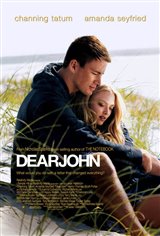 3.62/5
Based on 271 votes and 59 reviews.
Please rate between 1 to 5 stars
Showing 1-10 of 59 reviews
July 27, 2012
can't stop my tears from falling! i can relate to this movie. great great great!
February 5, 2012
i loved this show as a kid and have been a judd hirsch fan ever since.
January 7, 2011
There were so many goofs in this! In the scene where John meets Savannah's parents, they're going up the stairs to the house and she's wearing a minidress and in all the other shots, she has bare legs but in this one, she's obviously wearing black pants underneath. It looks really strange. I guess it must have been cold on the day they shot it. I saw a ton of other continuity errors too, where someone would pick up a drink, then in the next shot, they would pick it up again even though they never put it down.
September 16, 2010
The best!!
July 20, 2010
I thought this movie was very good but the second half was really wierd and i felt that it was really creepy why would she have married that guy!
July 6, 2010
The first half of the movie was really sweet and enjoyable to watch. But the second half took a weird turn and I found the storyline unrealistic and reaching. But it's still enjoyable to watch I guess
July 2, 2010
Love Love Loved Channing and Amanda in this movie. i much preferred the movie to the book. They portrayed the love story exceptionally and showed what talented actors they both are. They brought out the perfect emotions. I found that except for a few deviations, the movie stayed very true to the book.
June 24, 2010
very bad movie. horrible ending.
May 31, 2010
The main purpose of the story in the book is missed in the movie. The ending in the book is gut wrenching but bland and "movie" predictable in the movie.
April 20, 2010
I expected this movie to be amazing like the notebook, & it wasn't. The girl just pissed me off, especially because it gives the misconception that people fall in love in a week..