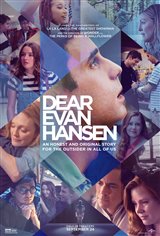 Dear Evan Hansen
| 17 Reviews
Write a Review
In Theaters: September 24, 2021
On DVD/Blu-ray: December 7, 2021
3.43/5
Based on 48 votes and 17 reviews.
Please rate between 1 to 5 stars
Showing 1-10 of 17 reviews
April 15, 2022
Dear Evan Hansen, Why are you a creepy 40 year old high school student??
February 14, 2022
Great story, casting, and acting. Not usually a fan of musicals but had seen the trailer and thought I'd give it a shot - alone, cuz I knew I'd tear up. Did the results justify the means? I wonder...
October 25, 2021
A movie that promotes weakness.
October 11, 2021
I think Ben Platt nailed it. Always love Amy Adams! Actors who portrayed Zoe and Connor = excellent! Want to see more of "Connor." Important topic for today; but not all sad.
October 8, 2021
This film is for everyone who relates to what it is like to live in the darkness of depression, anxiety, PTSD, and feeling utterly alone.....
October 8, 2021
The fact that the lead looked like Ben Stiller pretending he was in high school really ruined this movie for me. They couldn't have found someone younger to play this role? Add in a problematic subject matter and yeah... not good. I should have saved my money for West Side Story.
October 5, 2021
Music is sensational and the acting is the best. Great story and very informative for parents and adults everywhere. Not a movie for kids or toddlers. Message is there folks, see the signs and be a friend.
September 29, 2021
Evan Hansen is easily a four star movie. My husband and I were both very impressed. Great acting & well cast. Story is heartbreaking and endearing...and memorable. Music/songs are wonderfully well done. Yes, it's a little different than the stage play. Isn't that the point of movies?!. From people who have seen both, the criticism we read is not deserved for this movie.
September 29, 2021
Academy Award to go to BEN PLATT for sure, his acting in this is beyond excellent, every detail and emotion is portrayed. Message for all , HOLD ON, it gets better, life is full of changes. Movie is Sad bring tissues.
September 28, 2021
Amazing story. Songs are so beautiful and emotional.