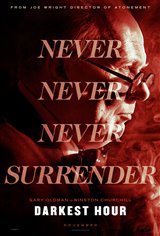 Darkest Hour
| 102 Reviews
Write a Review
In Theaters: November 22, 2017
On DVD/Blu-ray: February 27, 2018
3.78/5
Based on 324 votes and 102 reviews.
Please rate between 1 to 5 stars
Showing 1-10 of 102 reviews
September 25, 2018
riveting and entertaining. shows the true courage that hides within all of us in our "darkest hours" bravo!!!
March 24, 2018
Mostly speeches in this BORING film. Save yourself the $$ and go to a series of grad ceremonies or watch parliament in session. SNOOZE zzzzzzzzzzz.
March 2, 2018
Expected a little boring BUT found exceptionally well done. It showed a man in history that was steadfast as well as sensitive. From other movies I've seen this year the Oscar should definitely go to Darkest Hour & Gary Oldham. England was very fortunate to have him. It's a fact I wish today our country had someone like Churchill to fully trust, support and respect.
March 1, 2018
Great movie
February 23, 2018
Realism, excellent acting, excellent production design and costuming. Very, very honest. Best movie of this year so far.
February 22, 2018
Fabulous movie. Shows Churchill's struggle with decisions that needed to be made in Britain's involvement in World War 2. Shows his human side and his greatness, NOT an easy thing to portray. The movie is beautifully shot, makes you feel as if you could be a part of that time.
February 20, 2018
Excellent movie! Loved it.
February 17, 2018
I have always considered citizens of the UK as a back-boned race of people. Winston Churchill absolutely embodied this trait. I do not agree with another reviewer who said, "...sad that the movie reduced a lion to a blathering, indecisive, sad old man." He had to appear as a lion for the sake of his people; in private, he had self-doubts as we all do. Good film!
February 16, 2018
Historically accurate except for the subway scene.
February 15, 2018
Great movie.