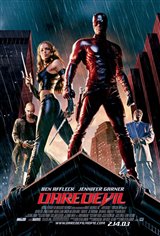 4.29/5
Based on 11672 votes and 179 reviews.
Please rate between 1 to 5 stars
Showing 1-10 of 179 reviews
January 14, 2009
Hi my name is jerry jiang I love your movie I lost my movie of dare devil I hope you win and good luck
March 21, 2008
Very Good -- an applaudable attempt at giving a super hero movie some real drama -- there are a lot of subtle nuances (yes, Ben Affleck and Jennifer Garner are capable of this!) that I found interesting and commendable -- not your run- of - the - mill super hero action flick.
March 8, 2008
AWESOME!!! the action was so cool but there was many holes in the plot...pretty frikin sweet, though! 4 stars!
October 11, 2006
I`m really into action movies, especially the ones that are based on comic books. But this one just wasn`t my favourite. I didn`t mind Jennifer Garner or Michael Clarke Duncan. I loved Colin Farrell, but I`m a sucker for that Irish accent. Ben Affleck just dosen`t do it for me, not in this genre anyway.
May 30, 2006
Easily one of the most inferior movies in the history of cinema. The actors remain as wooden and less life like than Pinocchio, the plot has more holes than a hockey player`s smile and the direction is below student film value but not quite rock bottom. A horrible clumsy execution, a movie that should be missed on all accounts.
February 19, 2006
wow dude that movie rocked =-) i even got it an the best part was jen beating up ben
June 2, 2005
it was ausome but ive seen better
March 28, 2005
this movie is pretty good...very unrealistic and i see mistakes every where...but the action is still great.4 stard...yea!!!!!
January 2, 2005
I think that Daredevil was an awsom movie cause first of all, my favorit actor is Ben Affleck and cause the movie made sence and is not so confusing.(can`t enough of movies with Ben in them? Love you, Sarah
December 15, 2004
THEY BETTER KILL BULLSEY IN THE SEQUEL...HORRIBLY! I DESPISE THAT CHARACTER SO MUCH THAT HE MADE HATE THIS THE MOVIE ASWELL!