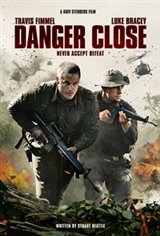 Danger Close
2 Reviews
|
Write a Review
In Theaters: November 8, 2019
On DVD/Blu-ray: December 17, 2019
R | Action/Adventure, Drama, War | 1h 58m
3.5/5
Based on 4 votes and 2 reviews.
50.00%

0.00%

0.00%

50.00%

0.00%
Please rate between 1 to 5 stars
Showing 1-2 of 2 reviews
December 17, 2019
Fantastic movie, especially for the budget. Great to see an Australian perspective of the Vietnam War. To the other clueless reviewer, the movie was pretty accurate. The battle was fought in a rubber plantation. Bullets went through the trees and provided zero cover. The ground was red clay so pretty hard to 'dig a hole' particularly with relentless 2000 enemy soldiers attacking you for three and a half hours. Go watch the amazing documentary the battle of Long Tan. Australians were the only forces to almost completely pacify the North Vietnamese and Viet Cong soldiers in their province of South Vietnam using counter insurgency tactics completely different to the USA.
November 18, 2019
Pitiful combat scenes. Very unrealistic. For example; thousands of bullets flying, and no one takes cover behind a tree or bush or digs a hole. No wonder the Aussies cut n ran soon after they got there and went home