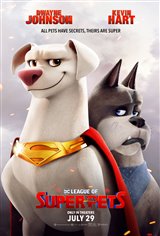 2.75/5
Based on 24 votes and 11 reviews.
Please rate between 1 to 5 stars
Showing 1-10 of 11 reviews
August 13, 2022
Not appropriate for children
August 12, 2022
I have no problem with the alphabet community and supporting adults' right to choose their own lifestyle, but QUIT throwing this agenda in minors' faces! I took my 7 and 9-year-old grandsons to see this movie and within 10 minutes of the start of the movie, low and behold, we had 2 animated women kissing each other. This is not appropriate for a kid's movie. Let them be kids and not have to question their sexuality until they reach 18 years old!
August 10, 2022
Quit trying to indoctrinate our kids with things that are a moral issue! It's scandalous! Leave our children alone!
August 10, 2022
The best DC movie to date. Fun and educational, too.
August 10, 2022
We were planning to take grandkids to see a cute, kids movie...but not one that intentionally pushes inappropriate agendas on children. Too bad...sad
August 8, 2022
Exciting, but no need to put in bleeped obscenities, implication that Lois Lane spends the night at Superman's house or two women being engaged. Let kids be kids. The movie was ruined by pushing unnecessary ideology.
August 7, 2022
At the start of the movie, they have two women that they introduce as husband-and-wife kissing. This is a kid's movie and that is not necessary to promote their gay agenda.
August 6, 2022
It was entertaining
July 31, 2022
the movie has great action and a good storyline. I really give the difference between a pet and a person's view in the world of pets. Great special effects action was great. I would have it in my collection any day so when it comes out on DVD I'll be getting it for my home collection. I liked the actor Kevin Heart.
July 30, 2022
My kids were ready to leave before the end of the movie. I liked Kevin Hearts character. Disney seems to have a checklist on what things to push and entertain. We've seen 5 family movies this year in the theater. This one was my least favorite, most expensive and I wish we didn't go see it.