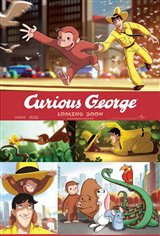 4.07/5
Based on 1566 votes and 155 reviews.
Please rate between 1 to 5 stars
Showing 21-30 of 155 reviews
June 12, 2006
I thought that this movie was too cute. It brought me back to my childhood!
June 12, 2006
lovely film for the under 5 crowd.
June 12, 2006
cute kids movie
June 12, 2006
I love that monkey:) he brings be back to when I was in grade school :_)
June 11, 2006
A light hearted film based on the Curious George books that are loved by millions of children.
June 11, 2006
I LOVED THE MOVIE !!!!!!I WOULD LIKE TO HAVE THE MOVIE ON DVD. I WOULD WATCH IT ALL THE TIME.MY SISTER HATED THE MOVIE, I LOVED IT.IT WAS THE BEST MOVIE I HAVE EVER SEEN.I BROGHT A FRIEND WITH ME, AND NANA. THIS WAS THE BEST TIME I HAD WITH MY FRIEND AND MY NANA. ACTUALY I BROGHT 2 FRIENDS THERE NAMES ARE REBEKAH,AND BRANDI. THEY THOGHT IT WAS THE BEST MOVIE EVER TOO. WE THOGHT THE MOVIE WAS GREAT, IT WAS THE COOLEST MOVIE EVER AND WE WOOULD LIKE SEE IT AGAIN TUEDAY. DATE:6/11/06
June 11, 2006
I WAS DISAPOINTED WITH CURIOUS GEORGE. I THOUGHT THE FILM WOULD RUN LONGER, AND THE STORYLINE WASN`T COMPARABLE TO THE BOOKS I READ OF CURIOUS GEORGE.MY 3 YR OLD LOVED IT, BUT MY 9 & 11 YR OLD DID NOT. THX MRS. TERRY VILLENEUVE, RED DEER,AB
June 10, 2006
I will never forget my Curious George stuffie that was bigger than me! I carried that thing around forever, and then my brother had it for awhile. We had to get rid of it eventually because my brother had asthma and couldn`t have stuffed animals in his room, but we loved that monkey! I shared the stories with my children and hopefully they will share it with theirs someday! Trully timelss!
June 10, 2006
very very very good