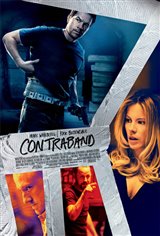 Contraband
49 Reviews
|
Write a Review
In Theaters: January 13, 2012
4.02/5
Based on 176 votes and 49 reviews.
55.42%

14.46%

15.66%

6.02%

8.43%
Please rate between 1 to 5 stars
Showing 31-40 of 49 reviews
February 5, 2012
fantastic! suspenseful!! keeps you guessing! loved it!
February 4, 2012
very good movie and story line.
January 24, 2012
the trailer depicted a bit of a different storyline than that which actually took place in the movie. but it was still very good, even with a somewhat predictable ending.
January 23, 2012
the best movie i've seen in a long time !loved it :)
January 20, 2012
kick ass
January 20, 2012
good watch, good acting, story like initially confusing but makes sence in the end.
January 18, 2012
like all movies of this shady-action genre, pretty much the same, but enough difference to be fun to watch. i enjoyed it. for sure, anything related to contraband smuggling is messy, messy, messy...
January 18, 2012
this is a good movie and would recommend it to everyone. not the greatest but its worth it.
January 17, 2012
aint gonna say this is a super great movie, but it is definitely better than sherlock holmes game of shadows
January 16, 2012
not great... unoriginal like usual and not worth the money. it seems everything has been done already so all movies pretty much suck. this one i wish i passed on... but it was a couple hours out with friends so in that way it was good. but the movie itself was trash. watch sherlock holmes instead.