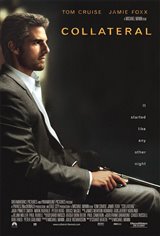 Collateral
158 Reviews
|
Write a Review
In Theaters: August 6, 2004
4.11/5
Based on 6797 votes and 158 reviews.
68.66%

4.50%

6.71%

9.35%

10.78%
Please rate between 1 to 5 stars
Showing 1-10 of 158 reviews
November 5, 2010
A very, very good movie. Cruise does a great job playing the bad guy in this film. Fox also gives a stellar performance. A very intense, well crafted movie.
June 14, 2009
Tom cruise kills for an hour in the movie, Jamie Foxx plays the wimp who doesn't stand up for himself. To top it off it's on two DVD's what a waste of time.
January 27, 2009
An amazing film directed by the brilliant Michael Mann
June 2, 2007
Good to see this back in theaters!
June 1, 2007
A slick,fun fast pace thriler with many unexpected twists and turns
August 7, 2006
Tom Cruise and Jamie Fox have amazing chemistry. Cruise plays a believable role of being a "HITMAN" and Fox was amazing in his role. Amazing movie that draws you into these two interesting characters!
May 31, 2006
Movie was non stop prolly one of toms best actings...even though an old man
January 22, 2006
What a boring movie.
January 20, 2006
It was ok, not what I expected.....which was alot more action
December 22, 2005
Terrific!!