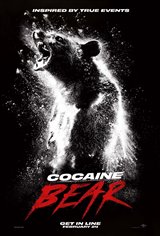 2.95/5
Based on 84 votes and 27 reviews.
Please rate between 1 to 5 stars
Showing 1-10 of 27 reviews
March 28, 2023
I can understand the 1 star reviews . But this is not a 5 star movie. there was more gore than in slasher movies. But I havn't seen a slasher movie in a while so I don't know how accurate that statement is. I can have a dark sense of humor periodiclly so I saw the humor when it was meant at times amongst the horror. Actors representing simplistic people explains the dialog short commings. If your looking for an intelligent film, this is not it. But it had its value, low as that might be. rh
March 25, 2023
I liked the cocaine donkey in BACHELOR PARTY a lot more.
March 25, 2023
I have no words to describe this low-rate production. Not "age-appropriate" for ANY age - we are all less intelligent and more corrupt individuals for having tried to watch it (left early bc it was both gross and unnecessary inaccurate). Our poor future of entertainment and morality seems more hopeless as folks define this as "entertaining" or "funny". Disappointing and worthless are understatements for this film. 10 thumbs and toes down!!
March 25, 2023
The theatre wasn't full, perhaps 1/3 to half. This movie is violent and funny and shocking and makes you jump and laugh. And we laughed. There was one scene where someone behind us threw up…and they stayed to watch the rest of it. We watched at least 4 people walk out…that's their loss. The rest of us who stayed whooped and hollered and laughed and cheered on for the 100% CGI bear. The applause at the end of the movie was well warranted. 12/10 movie experience, would do again.
March 24, 2023
There was absolutely nothing funny about the movie, after I had heard it was a comedy. There is something terribly wrong with any person associating themselves with such trash, and that includes the actors, director, producer,,,,,,they need to get a job. And WHY would any child actor's parents allow their child to use that language just to have an acting job?? That diminishes their future opportunities.
March 24, 2023
Pitiful acting; stupid dialogue obviously written by stupid writers who only knew a few vulgar words to repeat and repeat and repeat. I can't believe Ray Liotta agreed to be in such a piece of crap. Should have known when the concession worker tried to sway us from watching it, and the fact that we were the ONLY two people there, that something was amiss.
March 21, 2023
Not for children - See Rating. Based on true story so very unusual and interesting.
March 18, 2023
Omg the gore and blood and a really bad dialogue script. Sooooo bad
March 18, 2023
Could've used less baby laxative.
March 12, 2023
2 much blood & guts, didn't like it, not what I expected, sorry.