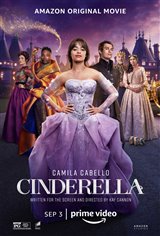 2.17/5
Based on 12 votes and 5 reviews.
16.67%

16.67%

0.00%

0.00%

66.67%
Please rate between 1 to 5 stars
Showing 1-5 of 5 reviews
June 22, 2022
Adele Nazeem wasn't bad, but James Corden destroys everything he touches and eats all the food on the craft services table leaving nothing for anyone else. If I were you I would just watch the old cartoon and guard your food if Corden is around.
June 11, 2022
Epic fail. Stick with the old-school version.
September 22, 2021
Loved it!! Casting was perfect, song choices wonderful, dancing exceptional and singing was awesome. Definitely see it again!!
September 16, 2021
Like updated version of Cinderella… enjoy the songs and cast…
September 3, 2021
Worst, worst, worst Cinderella of all time. It's supposed to be a fantasy, a feel good movie, but in this one, Cinderella just wants a career. And she's really, really annoying.