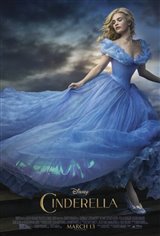 4.56/5
Based on 124 votes and 37 reviews.
Please rate between 1 to 5 stars
Showing 1-10 of 37 reviews
October 18, 2018
BEAUTIFUL ! Music, Sets, Costumes, Special Effects & especially, the beautiful portrayal of Cinderella , as done by Lily James. Absolutely loved every thing about this movie ! If only a few more of us could behave with the grace, humility, & kindness as portrayed in the movie, (in spite of the cruelty). How about that kind of "America Great again" . It doesn't have to be fantasy land ; as it is sometimes demonstrated, more often in times of crisis only. I think I'm going to surround myself today with some good people by going to see it again. (One character trait subtly revealed was her intellect).
October 16, 2015
Cinderella ~ Old fairytale with a new twist...Loved it!
August 5, 2015
Can't wait to see Tim Burton's version of Dumbo!
August 5, 2015
Loved the movie,they got it just right! Beautifull acting and Great backround music.Loved the special effects.
June 14, 2015
Really enjoyed it and i am a man in my 60's. Emily James an excellent Cinderella and Cate Blanchett very good as the cruel stepmother. Also, the scenery was beautiful. Had a good message about being graceful and forgiving under difficult circumstances .So much better than the garbage and filth that passes for movies these days. Very good family movie.
May 29, 2015
Loved it! It stays true to the Cinderella Storyline, but in it's own way. The costumes were amazing!
April 26, 2015
good movie to watch.
April 26, 2015
good movie
April 23, 2015
good movie.
April 23, 2015
Loved this movie! It made me feel like Cinderella. And I'm a man.