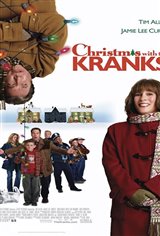 Christmas With the Kranks
3.93/5
Based on 4813 votes and 48 reviews.
Please rate between 1 to 5 stars
Showing 1-10 of 48 reviews
November 30, 2010
This has become a must-watch Christmas movie in my family over the last couple years - love it!
February 4, 2009
Terrific!
September 1, 2008
Great movie - highly recommended!
November 30, 2005
Christmas should be enjoyable and just plain fun. This movie made me laugh and for 1 1/2 hours just relax. Tim and Jamie are so funny. They compliment each other in this movie. This movie is good for the too serious people to just lighten up and enjoy the season.
November 28, 2005
Bad Movie, don`t get ever it`s not 3.9 there was a typo it`s supposed to be -3.9, and my dad is trying to recover that hour and a half of his life that he just lost......
November 19, 2005
This movie was hilarious! It`s a really good Christmas movie. Tim Allen`s a good actor. It was so funny! I liked it!
November 14, 2005
Pretty good Xmas movie, but kids under 10 won`t be that enthralled. I rented it and ended up watching it by myself...not the point of family movie night. Tim Allen is a hoot!!!
June 21, 2005
We loved it !! Thought it was a great movie with lots of laughs. I especially liked the frozen cat, that was so funny !!! We`ve been waiting for the DVD to come out, but no word yet. Polar Express is on pre-order as of today. Why no DVD ???
April 2, 2005
i loved this movie and would gladly purchase it when it becomes available
March 6, 2005
This movie shows one should write about what one knowns. John Grisham should stick to writing lawyer thrillers. It was a disappointing movie. Too bad really. It had everything going for it, Tim Allen, Jamie Lee Curtis and Dan Aykroyd, but that wasn`t good enough, it needed a story.