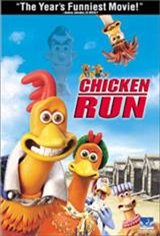 4.03/5
Based on 74 votes and 9 reviews.
57.97%

18.84%

5.80%

2.90%

14.49%
Please rate between 1 to 5 stars
Showing 1-9 of 9 reviews
March 1, 2018
I can watch this over and over and it will never become old! Great, intelligent humor, adventurous story and some stuff to think about.
March 31, 2005
One of the funniest, most intelligent films I have ever watched!!! I saw it three times within two weeks of being release, and then numerous times at home. I love the rats!!
March 19, 2005
i think this movie was excellent probably the best claymat ion movie of all time and probably will stay that way for a long time.2 thumbs up and 5 stars.
February 20, 2004
I think of chikin run is very hilarieus and two harry thumbs up and shuod get a hier credit because the chiken is hilareus.
September 18, 2002
I thought it was great, British humour and customs were there hroughout and Rocky ad Ginger were sooo sweet together!!!
September 13, 2002
cool
August 26, 2002
very well written and I bought the dvd!
August 26, 2002
great...just great
August 26, 2002
In clay animation, to film one second of footage, a character must be moved 24 times.