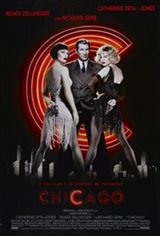 Chicago
138 Reviews
|
Write a Review
In Theaters: December 27, 2002
4.32/5
Based on 11684 votes and 138 reviews.
78.40%

4.82%

1.10%

1.34%

14.34%
Please rate between 1 to 5 stars
Showing 1-10 of 138 reviews
March 14, 2009
Great movie!! My favorite was John C. O'Reilly, what a fantastic performance! How true to life this story is in a strange way.
August 14, 2006
Amazing movie! I love all the songs and great performances! 5/5
July 1, 2006
I CAN`T STOP LOVING WATCHING IT.
March 21, 2006
words can not fill the amazing musical that is chicago! it is the best thing evr! even better than life itself!
July 7, 2005
I LOVED THIS MOVIE
May 28, 2005
I love this musical.... singing and dancing, musicals..... I love them!And this is a perfect example of a musical.
March 7, 2005
I love this movie, it`s deffinetly my favorite movie, and all the actors were great it`s simply the best!
October 16, 2004
TOO MUCH SINGING BUT IT WAS THIGHT FOR REAL
October 8, 2004
ANY MOVIE WITH COLM FEORE IS AWESOME!!! I KNOW HIS SON!!! MAUAHAHAHA, hes a hottie!!!
October 3, 2004
I loved Chicago so much!!! I was one of the best movies ever made!!!