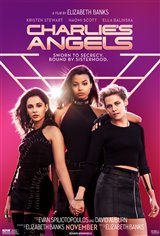 Charlie's Angels
118 Reviews
|
Write a Review
In Theaters: November 15, 2019
On DVD/Blu-ray: March 10, 2020
2.16/5
Based on 1302 votes and 118 reviews.
24.65%

3.36%

1.40%

4.76%

65.83%
Please rate between 1 to 5 stars
Showing 1-10 of 118 reviews
June 22, 2021
I couldn't believe just how dull this was! It should have been called CHARLIE'S DOGS, as the "ladies" (ahem) could not have been uglier! Elizabeth Banks is a talentless imbecile and a scumbag.
March 11, 2021
About as sexy as sewage. Hollywood can suck it hard.
August 30, 2020
Next to no action, and the broads were ugly. Miss it.
July 11, 2020
Dull and dreary all around, and that includes the cast too. Makes one pine for the original tv version. At least Aaron Spelling gave us hot women.
May 7, 2020
Terrible movie plain and simple
March 29, 2020
How in the World did Charlie's Angels go from from Farrah Fawcett one of the most beautiful women who ever lived to a nothing looking girl with a Bart Simpson haircut. Charlie's Nightmare would be a more accurate title.
March 13, 2020
Enjoyed the Movie, underrated, fun entertaining movie.
February 26, 2020
Hollywood is now just white celebrities telling their white audiences how bad white people are, especially the men. Terrible.
January 10, 2020
Hollywood used to know how tom make good movies. Then quality gave way to greed and the industry delivered stupid spectacle. Now Hollywood is trying to socially engineer the world. This is despicable. Don't be enslaved by imbeciles.
January 7, 2020
CHARLIE'S WHAT ??, wouldn't call them angels. Angels are beautiful , strong and defenders of God's word . not this social garbage