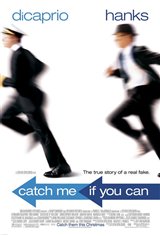 Catch Me If You Can
105 Reviews
|
Write a Review
In Theaters: December 25, 2002
4.33/5
Based on 5668 votes and 105 reviews.
75.27%

8.32%

3.16%

1.06%

12.19%
Please rate between 1 to 5 stars
Showing 1-10 of 105 reviews
January 21, 2011
Loved it - smart script and well shot...highly entertaining.
June 11, 2005
loved leonardo dicaprio`s performance
April 11, 2005
Brilliant !
November 6, 2004
WAS GOOD BUT MAKE A MOVIE CALLED LOST THE MOVIE
July 30, 2004
I love that fact...`that it was based on` FACTS story...Leo was pretty believable, and pretty darn `cute` in this picture!!!! ...I love the movie...bought the DVD..watch it all the time..!!
December 8, 2003
Very Entertaining, I was really into this movie while watching it
October 23, 2003
Crazy man just crazy, just loved it
May 11, 2003
I loved this movie,tom hanks and léonardo dicaprio were fantastique,really it was a great movie!!a must see!!
May 6, 2003
It was just amazing...I have read the book before and just saw the movie! I`m was a little bit deceive by the film because i had read the book first and i think theres à lot of importants things that was not mention in the movie!!! But Mr.Frank W. Abagnale is a genius and it`s amazing to see a 16 years old boy accomplished all that!!!Genius is the only word that comes to my mind when i think of him!!!! Sorry for my english...i`m a french canadian!
May 6, 2003
ABSLOLUTLY RIVETING!!! THE BEST MOVIE IVE SEEN IN A LONG TIME!!!