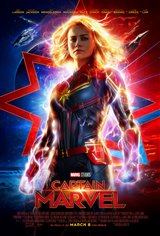 Captain Marvel
| 374 Reviews
Write a Review
In Theaters: March 7, 2019
On DVD/Blu-ray: June 11, 2019
2.28/5
Based on 2590 votes and 374 reviews.
Please rate between 1 to 5 stars
Showing 351-360 of 374 reviews
March 8, 2019
Wonder Woman was great, this is up there with Green Lantern.
March 8, 2019
save your money wait for HellBoy or Endgame; you had to know sooner or later Marvel ,miss the mark
March 8, 2019
What a mess. They seriously overhyped this movie, it was all over the place. I'm down with the whole girl power thing, no problem, but this just isn't a good movie, not even close.
March 8, 2019
Decent film I guesd. Kind of bubblegum. Not the best for sure. Weak script unfortunately .Its evident in the performances and you can read it in their faces that the story and script are really elementary.
March 8, 2019
This was a bad messy collage of movie. Brie's acting was lifeless throughout most of the movie. You get the sense she didn't want to be there. The source material from the comics was completely thrown out the window. Not that anyone really cares because the comics were never popular to begin with (rebooted 8 times). Lots of plot holes that make no sense what so ever in relations to the movies that came before it. The 3rd act was very reminiscent of the Last Jedi and the warp speed maneuver that saves the day. So basically it was a rush to the finish line battle. This could have been a good movie if they had a better director and coherent story that wasn't all over the place. Brie was completely miscast in this role. I would think most people who saw the movie would agree. Sam Jackson, Ben Mendelsohn, Jude Law and Lashana Lynch were good for what they were given. But their performances weren't enough to save this movie. If you're on the fence about seeing this movie don't take my word go to other reviews sites and see what critics and audiences are saying. I wish I would have gone to see Alita Battle Angel instead.
March 8, 2019
Boring and overhyped!
March 8, 2019
Not bad. Powerful captain marvel ?? The bad guys kept getting up over and over again after being blasted by her photon blasts. What's up with that? It was good but could have been great. Maybe she will shine in Endgame.