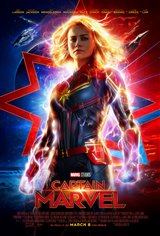 Captain Marvel
| 374 Reviews
Write a Review
In Theaters: March 7, 2019
On DVD/Blu-ray: June 11, 2019
2.28/5
Based on 2590 votes and 374 reviews.
Please rate between 1 to 5 stars
Showing 331-340 of 374 reviews
March 9, 2019
This was dreadfully awful. Bad writing, plot holes, source material thrown out the window, lifeless acting on Brie's part, gringy sjw scenes scattered throughout. If this is what the majority of audiences want they can have it. I give it 4 out 10 which is being generous.
March 9, 2019
Overpowered character with no actual character traits or arc, except maybe snark. Ret con Avengers history. Terrible origin of Nick Fury's lost eye. Insulting. Captain Feminism is here, oh and men are bad.
March 9, 2019
This movie is AWESOME!!!! Dont listen to those other guys that said it stinks it's a must see marvel blockbuster!!
March 9, 2019
Terrible. Did not enjoy it.
March 9, 2019
dejavue means nothing new I did not like it.
March 9, 2019
This movie is for kids who have a vivid imagination. They'll make it good just because. It's also for adults that haven't matured. In other words if you're a normal adult this will probably be a boring/nasty experience. It's all make believe, flying people with laser coming from their eyes!!
March 9, 2019
This movie was so bad. Honestly, I go to the movies weekly and I had to excuse myself to go to the washroom to sit on the seats outside for a break. Even my husband is a Marvel fan and he said it was ok but that's it. I think the other 7 people at the show thought the same. Some were sleeping. Too expensive to go to the movies the watch a bomb.
March 9, 2019
Liked it. It was really good probably cause I saw it with my cousin though.
March 9, 2019
terrible story line