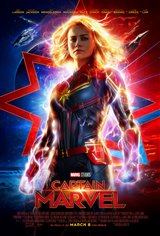 Captain Marvel
| 374 Reviews
Write a Review
In Theaters: March 7, 2019
On DVD/Blu-ray: June 11, 2019
2.28/5
Based on 2590 votes and 374 reviews.
Please rate between 1 to 5 stars
Showing 171-180 of 374 reviews
March 29, 2019
LOVED it! Powerful characters and storyline was excellent!
March 29, 2019
Waited out time. Very disappointed.
March 29, 2019
Great Movie! Loved the characters! Storyline was actually original and had flashbacks that kept you wondering what's really going on. Everything is explained towards the end. Anybody saying anything negative is probably someone who hates the idea of having a woman as the lead actor.
March 28, 2019
After a little over an hour we left. Extremely borinf movie. Unbelievably badly mnade movie.
March 28, 2019
Disney is always doing this to great franchises. Witch Mountain, The Boogedy Man, and Condorman were all turned into SJW propaganda.
March 28, 2019
The acting was great, the special effects were awesome. Very entertaining. Saw it once, going again with my 17 year old niece and my sister in law. Can't wait till it comes out on Blu-Ray. a must see movie, do not listen to the critics, judge for yourself.
March 27, 2019
We thought Captain Marvel was a lot of Fun to see! (We are 2 millinials and 1 baby boomer - male and female)
March 27, 2019
Awfully boring movie. Terrible acting. I hope this is her last superhero movie. I sure wont go see anymore if she is in them. .
March 27, 2019
Not my cup of tea. I'm more of a traditionalist. Plus not great acting.
March 27, 2019
Anytime Disney buys a franchise like Marvel or Star Wars they kill it deader than dead with their leftist propaganda. They can't help it, they'll spread the cancerous virus of Lefties anywhere they can!! I'm done with anything they buy.