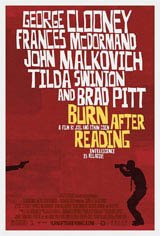 2.81/5
Based on 613 votes and 119 reviews.
Please rate between 1 to 5 stars
Showing 1-10 of 119 reviews
November 28, 2009
Big name talent in a ho-hum movie. Simply being strange isn't funny. Thumbs down.
July 13, 2009
Maybe Americans are too close to this content to be able to understand it - as in, you call it a hammer but we call it a screwdriver.
June 30, 2009
Not only was it dreadful but I fail to understand why the endless use of the 'F' was necessary and very funny-it wasn't!
February 18, 2009
IT ROCKS
January 14, 2009
Classic Coen Brtoher's. If you didn't like Fargo you probably won't like this one.
January 12, 2009
this movie was probably the worst i've ever seen. it was boring. i am confused as to how it recieved such great reviews?!?
January 9, 2009
THSSST!!! is too good for this movie? - Bad Brad, Bad...
January 3, 2009
One of the worst movies I have ever seen. I have seen many movies including comedies (ranging from horrible to excellent), action of any type, drama; no other movies can destroy good acting so effectively. This means, good acting does not help ... Fortunately, I had the choice of walking out on it after a merciful 30 minutes (@$!x*, I wasted over half an hour of my life on this, I can't believe it). Hollywood, please stop making movies like this!
December 28, 2008
Should be called "Burn Before Watching"! One of the most self indulgent projects I have ever seen. I regretted not walking out and going to see "the house bunny"... most irritating movie since The Blair Witch Project!
December 24, 2008
What the ?? movie is this? Could not believe I was watching a movie that received good reviews!!! Awful.......in my opinion.