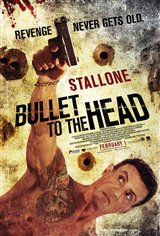 4.28/5
Based on 36 votes and 15 reviews.
Please rate between 1 to 5 stars
Showing 1-10 of 15 reviews
February 13, 2013
this was a very good movie. It has lots of action in the movie. Way to go to the cast!!!
February 13, 2013
enjoyable all-round realistic no-hesitation action, plenty of cool ruthless brutality of all thugs/baddies involved, & add refreshing '1st' for elusive invisible-in-USA/Hollywood screens 'Asian American' as a 'good guy'! woo-hoo! (kudos S.Stallone) it's fun 2c S.Kang in a more inclusive role. J.Momoa also a hard to dislike cute handsome brute baddie mercenary w/ a human side 2 him. nice touch. gorgeous S.Shahi! was hoping 4 a more steamy ending w/ Kang as potential son-in-law!!! hehehe: sequel pls! worth the see!
February 12, 2013
Just seen Bullet To The Head a second time. Loved it before and still Love it. Worth to see it again. What a great movie. I hope everyone goes to see it. If you love action Bullet To The Head is for you. Not kidding. I would say with everything that's out there right now This is in my Top 3. Hope you Enjoy :)
February 10, 2013
Wow Give me another one and I'll take it!! Great movie great performance from Sylvester Stallone best ever! He puts in sarcasm and swear words in Italian!! Hahaha I loved it!! Great action too. They don't make movies like this any more!! DON'T BE THE ONE TO MISS THIS IN THEATERS!!
February 8, 2013
AMAZING MOVIE i'd see it again like everyday
February 6, 2013
Don't miss it if you're a Syl fan.Better than the Expendables.
February 5, 2013
Wow wow wow SARAH SHAHI Syl's co star is HOT HOT HOT!! Sly is also friggen PUMPED!! This guy jut gets fitter and fitter! Friggen fights scenes rocked and I loved the humor great performance by all cast but Sly rocked the house! Don't miss it!
February 5, 2013
If you like Action movies and you like a good script with it and you like Stallone THEN WHAT ARE YOU WAITING FOR??!! Easy pick guys c'mon...Zombies falling in love or A BULLET TO THE HEAD?!! DON'T MISS THIS MOVIE!
February 5, 2013
Wow another great film with Stallone. You can tell he didn't direcect it with the shaky sometimes camera work but honestly besides that I must say this was a fantastic action movie. They don't make movies like this anymore with humor and realism. I loved Jason as well this was way better suited than Conan (all though he does great in medieval movies Conan was not for him try Beastmaster Jason :) ) great film don't miss in theaters AVX all the way!!