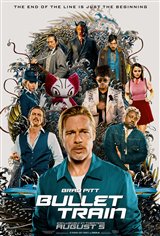 Bullet Train
| 97 Reviews
Write a Review
In Theaters: August 5, 2022
On DVD/Blu-ray: October 18, 2022
2.78/5
Based on 242 votes and 97 reviews.
Please rate between 1 to 5 stars
Showing 1-10 of 97 reviews
April 29, 2023
Funny action comedy with some brutal scenes. It is kinda chaotic and hard to follow at first but all scenes actually have its purpose and it all clicks in the end.
April 22, 2023
started off confusing and wasn't sure if I was going to continue but as the movie goes on, more and more make sense and by the end I turned out to really like this movie.
April 6, 2023
It is a funny and silly action movie, half of the characters doesn't make sense. Seem like everyone want the wallet with blackmail money. If you like movies like kill bill, you will like it, guess it was not my kind of action movie
January 24, 2023
fast pace totally unrealistic action movie in a train... not really funny, not really catching in term of action neither.... a weird movie... no need to see, nothing to see... cameo bullock is at the very last minute... likely on purpose... so fans have to wait until then and stay in the theater...
January 10, 2023
Not the worst movie ever but could have been so much more. Too many plot holes and contrivances to the story.
December 15, 2022
What purpose did this movie serve? Too long winded to tell a simple story that in the end wasn't that good. Disappointing. Hollywood is lost for good. I don't good movies coming out of Hollywood for at least a generation. Society has to cycle through the jug heads that are presently writing and directing. Waiting for the next generation to do better.
December 5, 2022
Lots of comments from people that didn't like the story line. This movie makes you think and requires that you be attentive. If you are going to just sit there and let the visual tell you the storyline you will find it of course confusing and leaving you to wonder what in the world you are watching. Must see movie. Will definitely buy and add it to my movie collection up there with Red, Die Hard, Pulp Fiction and the Expandables..
December 5, 2022
If you liked pulp fiction you will like this. Great storyline. Suspense, thrill and laughs!
October 26, 2022
it was so boring you couldn't understand half of it waste of time and money
October 21, 2022
The Movie was comical the whole way through and entertaining, there were plenty of twists and turns that left you going what in the world. A blockbuster that didn't take itself to seriously and easy to enjoy.