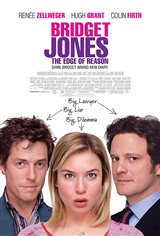 Bridget Jones: The Edge of Reason
72 Reviews
|
Write a Review
In Theaters: November 12, 2004
3.68/5
Based on 87586 votes and 72 reviews.
66.61%

0.13%

0.13%

0.53%

32.60%
Please rate between 1 to 5 stars
Showing 1-10 of 72 reviews
July 14, 2011
hoping for a third one too! I'll never get tired of watching this movie and the first one!
November 2, 2010
I love these movies and would love another one! Bridget has a baby...etc...would be great!
September 4, 2005
I love this movie as much, if not a little more, than the first! I understand the character of Bridget Jones more than any woman should! I really hope they have a third one, but I guess that`s kind of unlikely! And, by the way, Colin Firth is one sexy bugger!
July 27, 2005
Not as good as the first. The Hugh Grant scenes were the only ones worth watching.
July 16, 2005
Amazing !!!! Colin Firth was great as usuall !!!
May 23, 2005
The first movie was much better.... but Hugh Grant is a babe!
April 3, 2005
This movie has no point at all. Horrible story.
March 25, 2005
Really not even close to the first one, over done, character no longer believable.. too bad
January 27, 2005
Hilarious - I smiled thru the whole movie!
January 25, 2005
INCREADIBLE...SO FUNNY...SUCH a WONDERFUL film!! They were all FABULOUS in the movie...ah, i love "Mark Darcy" Such a great laugh!! Must see it!!