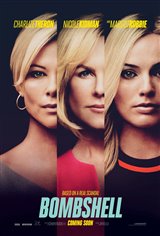 Bombshell
| 78 Reviews
Write a Review
In Theaters: December 20, 2019
On DVD/Blu-ray: March 10, 2020
R | Drama | 1h 49m
2.93/5
Based on 272 votes and 78 reviews.
Please rate between 1 to 5 stars
Showing 1-10 of 78 reviews
March 17, 2020
Did not like this movie. Not entertaining. Guess now I know why this film did not stay in the 1st run theaters very long. I would not bother.
March 17, 2020
Good performers badly directed and the writing was high school quality. Felt like I was at a persecution not a movie. Could only sit through half of the movie then asked the front office if I could go into Jumanji .....and that salvaged the afternoon.
March 17, 2020
OH, COME ON !!!! Like Fox is the only studio, Company and Business that has powerful people whom misuse their position /power...... how about Tom B at NBC, how about Harvey H (very liberal)...... Fox is a great network and this movie is awful. The stars should be embarrased and this movie will disappear to the $3 theatres quickly....because it is poorly made by fanatics...wish I could give it "0" stars
March 16, 2020
I thought that the movie was very well done aside for perhaps more bad language than necessary .Margot Robbie gets better with each movie I see her in .
February 18, 2020
couldn't stand fox news before , now it's even worse, all news is such a shame, and filled with lies
February 18, 2020
It must be true if a woman says so , they would never lie , not even for a million dollar job, mmmmmmmmmmmm
February 13, 2020
fox news has become a joke since this phony purge , look behind the curtain and come out from the land oz
February 11, 2020
Excellent Acting by All the Cast. Based on a True Story. Shows how Men can Abuse Power and Money. Excellent Movie
February 10, 2020
ok, probably could have been made for tv
February 4, 2020
The first viewing I thought the movie was very good, the third viewing I concluded it was excellent. You could "feel" the uncomfortableness Kayla displayed when show-casing her body for Mr Rogers. And you know what Megan was thinking when things at Fox (fair & balanced???) was falling apart & Megan, when in the car, turns around & glances at her sleeping daughter for a few seconds. Two memorable moments for me. ["Fake Hannity" is full of shit (and I use to like him). he'd be tearing trump a new as----- if he was a democrat.] Oops! Kate Mckinnon breaks up the drama with her sense of humor. For the men giving this movie negative reviews, I suspect they're trump supporters, lack empathy & would behave as some of the men in this movie did. Great & very revealing movie how men can behave poorly (I'm a dude)rh