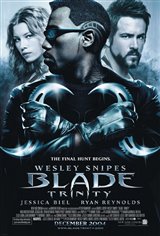 3.89/5
Based on 13587 votes and 107 reviews.
Please rate between 1 to 5 stars
Showing 1-10 of 107 reviews
June 26, 2009
this movie was awfull. very very very weak. the whole movie was a joke. blade 1 and 2 are awesome movies. blade trinity wasnt even related to the other ones because blade trinity was just flat out embarassing!!!!!!!!
March 12, 2007
action packed and very entertaining.. 4 starz
May 27, 2006
Loved this movie - especially Dominic Purcell. Nice not to see a vampire in evening wear, but a warrior, which is what a vampire really is.
April 30, 2006
super film looove ryan
February 12, 2006
It was a great movie. I like the vampires mostly in it. They make up the best part of the movie. Some of the vampires they played were cute. So that was all I had to say about this movie. And my favorite actors, like the guy that plays John Doe. He Is so sexy. How did he get an acting position like this?
February 7, 2006
Blade was so awsome it alot of action in it. and Ryan is the hottest man on the face of the plant.
June 8, 2005
Since I`ve read some bad reviews, I thought it would disapoint since this is a Blade movie and I love the first two so I gave it a chance and suprise, suprise, it`s suprisingly pretty good. The actors are pretty good,likeable characters, excellent special effects and a pretty decent storyline and if there is any weak point in this movie is that it is Drake. I`m not saying I hate him but he`s suppose to be the father of all vampires and he would`ve been a great villian if the director used him to do more evil things and to show how powerful he is and if that would`ve happened in the movie, I would`ve given this movie a 5 but it`s a four becaus
June 7, 2005
This one was better than the second one. The second one could have move action and not so much computeriesd.
May 6, 2005
pretty good - the first 2 were better
May 4, 2005
Awesome body...Ryan is a dream...