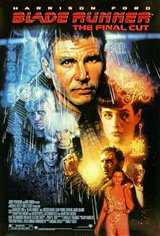 Blade Runner: The Final Cut
20 Reviews
|
Write a Review
In Theaters: October 5, 2007
R | Fantasy, Drama, Science-Fiction | 1h 58m
3.58/5
Based on 94 votes and 20 reviews.
58.33%

0.00%

8.33%

8.33%

25.00%
Please rate between 1 to 5 stars
Showing 1-10 of 20 reviews
October 4, 2020
Because of annoying wokeness in new movies I decided to watch some older-than-me movies I have never seen. I wasn´t impressed, it was quite slow and boring until the finale which was very creepy and well-made. The visual effects they managed to create without CGI in the 80´s are impressive though.
January 31, 2015
Saw this last night at the Cineplex GDFF. It's still amazing after 32 years. More people at the theatre to see this last night then there was in 1982 when I originally saw this in cinemas. The visuals and story are thought provoking and breath taking. Loved all the actors in this especially Harrison Ford and Rutgers Hauer. A true classic.
October 10, 2011
Wesley Snipes kicks some serious ass in this action-packed adaptation of the popular Marvel comic.
January 7, 2008
Where's Wesley Snipes?!?!
December 19, 2007
Magnificent.Seamless. Back in the days when you made the movie first and then thought about what effects to add.
December 14, 2007
The finest film ever made in colour.
December 7, 2007
Watching this reminds me of when movies were good.
November 28, 2007
Sean Young should be considered the front-runner for a Best Supporting Actress nod.
November 26, 2007
The BEST movie of 2007.
November 26, 2007
The Oscar race begins with BLADE RUNNER!