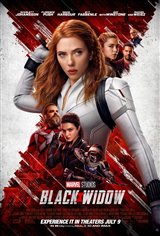 Black Widow
| 42 Reviews
Write a Review
In Theaters: July 9, 2021
On DVD/Blu-ray: September 14, 2021
4.28/5
Based on 806 votes and 42 reviews.
Please rate between 1 to 5 stars
Showing 1-10 of 42 reviews
September 18, 2021
Uninspired. Marvel sausage.
September 5, 2021
Another manipulated score. That movie is awful. The bratty sister is the worst. Or maybe the gendreswapped Taskmaster who is actually Taskmistress but the male stunt double did all the hard work. Shame on you, Marvel! Either hire female stunt double, or just accept women can´t to everything the same way men can. The "Russian Capt. America" was the butt of all jokes, despite his superpowers which were never used, so Mary Sue could shine. If you have to put down male characters to make female characters look strong, you didn´t create a strong female character in the first place.
August 16, 2021
The movie was monotonous. I did not like the Russian sister. Lol
August 11, 2021
Love the way filmmakers bring us into the future. Great story on one man so powerful trying to control the world by chemical induced for mind control. Hiding in space built operations. So far out, writers are Genius. Lots of action and the strength of family. Must see.!
August 11, 2021
Pretty good. One of the better Marvel movies. Lots of action. Nice emotional moments. Good, solid laughs. Social commentary is subtle but still profound.
August 10, 2021
Okay movie, but somewhat miscast. Its one of the better marvel solo efforts, but a bit strangely timed in terms of fitting into the wider story arc, it probably should have been made a few years ago at the height of the avengers hype. Its not as dull as civil war-but not as good as endgame. Florence Pugh steals the show (big fan of hers), ScarJo is okay-her style tends to be divisive-if you find her annoying in general, she won't do anything new in this. I just cannot fathom why Rachel Weisz is portraying somebody who is old enough to be ScarJo's mum? She so obviously isn't.
August 8, 2021
This has a very good storyline. It was exciting through the whole movie! We really enjoyed the movie and would highly recommend seeing it!!
August 7, 2021
Great Movies waited a long time to see this one , I want more !!!!
August 6, 2021
Great story line and the special effects were "out of this world"!!! There were a few funny scenes, also!!!!
August 2, 2021
I enjoyed this movie. It had a lot of good action. Black Widow was a true hero in the sense that she risked her life to do good.