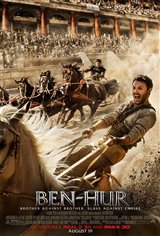 Ben-Hur
60 Reviews
|
Write a Review
In Theaters: August 19, 2016
On DVD/Blu-ray: December 13, 2016
3.58/5
Based on 170 votes and 60 reviews.
49.30%

12.68%

9.86%

2.82%

25.35%
Please rate between 1 to 5 stars
Showing 21-30 of 60 reviews
August 27, 2016
Great action scenes! Incredible story line.
August 27, 2016
very good movie-kept my interest all the way thru-the chariot race was awesome-im sure the 1 and 2 star ratings were from people who didnt even see the movie. i give it 4 stars
August 27, 2016
Good movie
August 27, 2016
I had to see this movie since I am a fan of the 1959 classic. I'm satisfied with this remake. It was worth my time. Tottally recommended.
August 26, 2016
I attended the movie with two friends and we thoroughly enjoyed it. I have have seen the both previous versions and liked this much better.
August 26, 2016
This movie was much better than the 1959 in many ways - the story line - the battleship & chariot race scene - the fact Jesus shows up more - the ending showing forgiveness & a new hope - but I'm sure there are many who will think other wise but to bad for them!
August 26, 2016
Exciting, engaging and entertaining. Exceptional visual perception of the battle of ships, chariots, and brothers
August 25, 2016
PLEASE DON'T WASTE YOUR MONEY.........THE WORST MOVIE I HAVE EVER SEEN.......CHARLY MUST BE TURNING OVER IN HIS GRAVE.......sucks>>>>sucks
August 25, 2016
Wonderful movie & Beautiful ending
August 25, 2016
Loved it, have watched more than once. Gotta see it on the big screen for the visuals alone !