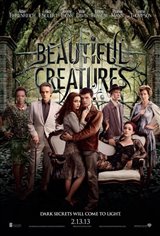 3.05/5
Based on 44 votes and 17 reviews.
Please rate between 1 to 5 stars
Showing 1-10 of 17 reviews
June 15, 2013
Great best movie but they should make a second one
June 12, 2013
I never read the book so maybe that helped with expectations. I thought it was well done. More of a love story and not overdone with special effects.
March 7, 2013
I loved the movie when I went to see it, but I would advise to see the movie before reading the book or you will be horribly disappointed.
March 1, 2013
Not a horrible movie, but a bit predictable and boring. A few funny bits.
February 25, 2013
Well done liked it and was entertained.
February 24, 2013
The only reason I didn't give it one star is that SOME of the casting was well done and the scenery was lovely - I am not a person who thinks that an adaption has to be exactly like a novel - but usually if a book is adapted to screen it's because of it's success - sooooo many things that made the novel as success were either not explained well or completely changed around. Sorry - not a fan of this one which is a shame because it could have been a great series of movies - and I doubt that Beautiful Darkness will be made into a movie.
February 22, 2013
2 hours I will never get back.
February 20, 2013
i'm not much into witchy-magicspell-romances, but enjoyed the movie nevertheless. i've zero interest in any book(s) it may be based on; so as a stand-alone story, it does fine. obvious contradiction in notions of mortals being hardly any different from 'non-mortals' (immortals?) that both age and prone to death and not 'ageless forever young' [quite absurd]. hollywood loves to distort 'southern' christians [gets old], but it's most likely from the book anyway.
February 19, 2013
The movie itself was quite good, but the problem was that it strayed quite far form the book, which was very disappointing. Several important characters and several key pieces of the first book - which lead into the second and third - are missing.