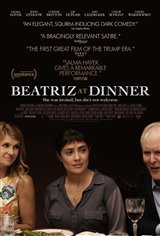 Beatriz at Dinner
| 28 Reviews
Write a Review
In Theaters: June 9, 2017
On DVD/Blu-ray: September 12, 2017
3.16/5
Based on 82 votes and 28 reviews.
Please rate between 1 to 5 stars
Showing 1-10 of 28 reviews
October 18, 2017
Slow and uninteresting - Ending was dry and hard to follow
August 24, 2017
I thought she would make a difference , ok she was burnt out , away from real friends , the loss of her goat traumatic ,but the end of movie was lousey , super depressing movie, ugh!
August 13, 2017
Outstanding movie. Excellent acting. Left me thinking long after it ended. An ugly statement on human behaviour, human consumerism and the callous disregard for others and our planet.
July 21, 2017
Powerful content, outstanding direction and acting, storyline is a sign of the times... yes, I will see it again...
July 20, 2017
Loved it!!! Intelligent dialogue. Great performances, especially by Salma Hayek, and the subject happens to be actual and pertinent.
July 18, 2017
Ouch. Controversial. Poignant. I loved it. Perhaps there was no ending because there isn't.
July 17, 2017
Good actors but one dimensional. Depressing story.
July 16, 2017
Liked the actors performances. Great film for mental health education. Signs and symptoms of burnout . Family and friends not being able to know what to do. A better ending would have been her getting the help she needed to deal with her many losses.
July 15, 2017
Very much for the times!
July 13, 2017
Not emough Beatrix at dinner and too much Beatrix stalking the halls looking doleful. Okay, Important commentary was made about anti-Mexican bigotry was made but it was glaring because the scriptwriting was so awful and some of the acting worse than the supposedly poignant ending. Ugh!