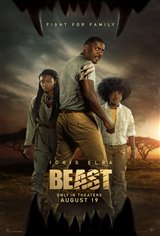 Beast
| 28 Reviews
Write a Review
In Theaters: August 19, 2022
On DVD/Blu-ray: October 11, 2022
R | Thriller | 1h 33m
3.26/5
Based on 76 votes and 28 reviews.
Please rate between 1 to 5 stars
Showing 1-10 of 28 reviews
October 1, 2022
This movie was great, it was intense and very interesting. Idris Elba was great as well in this film.
September 18, 2022
Not much to say here other than it's as predictable as it gets. Idris Elba is good. The performances decent but if you need to use the rest room, you won't miss too much.
September 18, 2022
Very Good movie idris elba is a relly good actor . 5 stars
September 17, 2022
Not good actors or plott
September 17, 2022
All the Actors were awesome, and Idris Elba is my favorite Actor. Great Action Movie. A must see!
September 17, 2022
Not very good
September 16, 2022
Meredith was so annoying. She kept bringing up her mom at inappropriate times. She made me want to pull my hair out.
September 16, 2022
As someone who has been to Africa 6 or 7 times, I has high standards. I found the film did an accurate job of representing life in the bush. Reality is not always the way Disney wants us to see it. Special effects were well done. It is funny that a British actor was picked to plan an American, but he did a good job.
September 13, 2022
So extremely basic, the plot: family want to re encounter with their family roots in Africa and they get lost from in the middle and then a lion try to kill kill them. that was all if you read my Plot and close your eyes and use an imagination then . you can make your own movie better everything is the movie could be avoided so easily, not twist. honestly it is a ok movie to watch for free. nothing else. now in days is so extremely hard to find an ok movie in the movie theater
September 9, 2022
I was hoping the Beast would win.