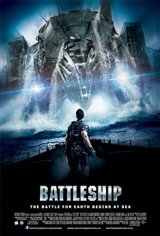 Battleship
211 Reviews
|
Write a Review
In Theaters: May 18, 2012
3.81/5
Based on 682 votes and 211 reviews.
36.59%

32.32%

15.85%

6.40%

8.84%
Please rate between 1 to 5 stars
Showing 31-40 of 211 reviews
June 28, 2012
absolutely the single worst movie ever made. i waited through the credits for them to say the joke was on me. doesn't it seem odd that earth was being invaded by an only marginally more advanced group of aliens? they didn't even have a death ray! what's up with that? dumb movie - really dumb and terrible acting.
June 21, 2012
hands down the best movie of the summer!
June 20, 2012
my wife and i met at a "battleship" tournament in illinois so this had added meaning for us.
June 20, 2012
best movie based on a game since "clue!" it also happens to be one of the ten best action films ever made.
June 16, 2012
it's like "battle los angeles". the best part about this movie is it has one blonde (brooklyn decker). maybe they should call this movie "battle hawaii"??
June 14, 2012
reminds me of the board game.
June 14, 2012
action packed and i quite enjoyed it .
June 14, 2012
better than the game
June 13, 2012
better than the game
June 12, 2012
pretty good, not outstanding