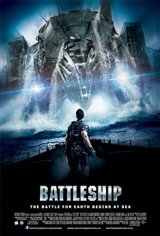 Battleship
211 Reviews
|
Write a Review
In Theaters: May 18, 2012
3.81/5
Based on 682 votes and 211 reviews.
36.59%

32.32%

15.85%

6.40%

8.84%
Please rate between 1 to 5 stars
Showing 21-30 of 211 reviews
August 29, 2012
astonishingly stupid plot and dialogue. wow.
August 19, 2012
i wish i could give it a lower rating than one star. the dialogue was weak and very repetitive. they beat that stephen hawkins quote (the analogy comparing christopher columbus to extraterrestrials) into the ground. ok!! we get it!!! the aliens are the europeans and we're the indians. now, how about coming up with something original?
July 15, 2012
absolutely amazing!
July 14, 2012
back off, aliens -- you're not taking our planet!
July 14, 2012
well put together film
July 14, 2012
a triumph!
July 5, 2012
action fans haven't had it this good since raiders of the lost ark.
July 4, 2012
kudos to the producers for having the guts to make the toughest, grittiest film about war since platoon.
July 4, 2012
this movie was amazing and incredibly true to the game on which it's based.
June 28, 2012
the perfect summer blockbuster! seen it three times already and i'm goin' back for more!