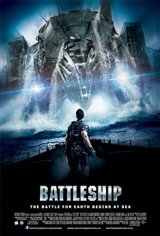 3.81/5
Based on 682 votes and 211 reviews.
Please rate between 1 to 5 stars
Showing 11-20 of 211 reviews
November 11, 2012
A perfect premise for a great movie blown! I used a video edit prog. and took out all the ridiculous/moronic parts of the movie and kept the good to best battle scenes, and I have only 16 minutes left! And I was being generous! Kids under 10 might like it.
October 18, 2012
bad movie
October 9, 2012
the first 15 minutes of the movie are hilarious....after that it just gts silly.
October 2, 2012
not as bad as the critics suggested..still not the best movie, but worth a watch.
September 22, 2012
the best pure adrenaline rush since id:4! should scoop multiple oscars for sure!
September 5, 2012
terrible. i was bored from start to finish. couldn't wait for it to end. plot and lines are off the chart lame.
August 31, 2012
to finish my last.... the alien effects were very very good (thanks, transformers!) and it had the right mix of clichés, improbable circumstances and triumphs to make it a good alien action flick. well worth watching... one of those movies that's worth owning just to watch every now and again.
August 31, 2012
no interspecies sex that i saw but the interspecies fisticuffs were pretty good. look, it's a movie about a pretty simple, old board game - just what level of indeptch "human condition" type storytelling are you expecting? go watch driving miss daisy again if that's what you look for in a movie. battleship was a lot of fun to watch! sure, liam's role is pretty much just that of the father who disapproves of his daughter's suitor but who cares - it's not a movie about him. yes, the plot is laid out fairly early on, but it's the resolution that we come to watch. the movie was very well done and loads of fun. the alien effects were very very good (thanks, transformers!) and it had the rig
August 29, 2012
the interspecies sex scene was very graphic and lasted 17 minutes.
August 29, 2012
by the end of this idiotic movie the cliches were coming so thick and fast i burst out laughing.