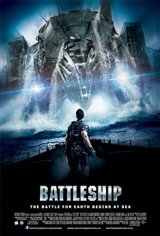 Battleship
212 Reviews
|
Write a Review
In Theaters: May 18, 2012
3.82/5
Based on 684 votes and 212 reviews.
36.78%

32.22%

15.81%

6.38%

8.81%
Please rate between 1 to 5 stars
Showing 1-10 of 212 reviews
January 13, 2022
Loved this movie ! Dramatic and fun in all the right places with a nice pace and character development. The music score was excellent with lots of AC DC thrown into the mix and the FX top notch ?😎
January 6, 2016
Having participated in RIMPAC in the Navy and having seen (and felt) the USS Missouri fire a full broadside before she was retired, I think they did a fantastic job with this movie. Very entertaining throughout!
December 28, 2015
It's the best movie out there.
June 5, 2014
You'll immediately find yourself wanting to play BATTLESHIP after seeing this tense, brainy, action-packed film! Easily the best movie based on a game yet!
April 10, 2014
Great movie!!! I loved it! Rihanna did an amazing job! Luv her!!!! <3 I hope to see her in more movies!! (:
April 7, 2014
Rihanna :D would watch it twice just because she is in it.
July 5, 2013
BEST summer blockbuster ever!
February 12, 2013
This moving wasn't very good. A lot of bad acting. Parts of the story didn't make sence or get answered. It was 30mins of story and 1.5 hours of blowing things up. A show off for speical effects that weren't even that good. Rihanna can't act. I hope she never does another movie again.
November 19, 2012
It was one big commercial for a video game, which is why people love it!
November 18, 2012
One big commercial for a video game.could not stand it ,walked out of the theater!