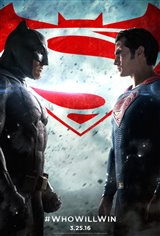 Batman v Superman: Dawn of Justice
3.7/5
Based on 1146 votes and 210 reviews.
Please rate between 1 to 5 stars
Showing 41-50 of 210 reviews
April 15, 2016
I enjoyed the Ben Affleck as Batman. The iMax 3D was great. I would watch again.
April 15, 2016
must see movie! Keeping in mind its an origin movie the pacing and material covered was done in the best possible way! Ben Affleck performance as Batman/Bruce Wayne ranks #1! Comicbook fans will be pleased with this movie!
April 15, 2016
Action pack, and Ben did a good job as the bat!
April 15, 2016
I loved every moment of this movie. From beginning to end I was constantly surprised by the casts performance. 2 thumbs up!!
April 15, 2016
Based on a DC Comic Book, the plot is actually thought out and good. They did a great job with this story.
April 15, 2016
Good flick.
April 14, 2016
Far better movie than what the critics would lead you to believe. Heavily inspired by various actual comic books (eg: The Dark Knight Returns by Frank Miller), and so most of the gripes seem to come from people who have never actually read such comics. Luthor was an odd take, but it's explained more than once that he's actually the son of the Lex Luthor we're all familiar with (a point that seems to be missed by everyone who hates him). Action was amazing, effects were amazing, Ben Affleck proved all the haters wrong with his portrayal of Batman, and contrary to what some of the commenters here are saying, there is a story, it just isn't spoon-fed to you the same way other action movies are.
April 13, 2016
I love this movie. It's epic...
April 13, 2016
Very entraining. Love Ben Affleck as Batman.
April 13, 2016
Just so you know I love comic book movies. I'm neither a DC or Marvel fan. I just want to see a good movie. The open scene is something we all know about Batman. It was put in there for one part at the end of the movie. "Martha" Wow their mothers share the same name. They can now be best buds. Wonder Woman, ok. They did steal from Xena the Warrior Princess for her costume. Did love her fight scenes. Oh, ya the whole movie is suppose to be about the epic battle, well that doesn't happen till the end of the movie. 2 hours of Ben brooding and Superman coming the rescue of Lois Lane, but when your boyfriend is Superman and is watching over you all the time who cares, but can't save his mother. Lex Luther is a cross between the Riddler & Joker. If you feel like this is one big commercial for the other movies, you are right. I did love Alfred!