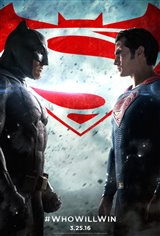 Batman v Superman: Dawn of Justice
210 Reviews
|
Write a Review
In Theaters: March 25, 2016
3.7/5
Based on 1146 votes and 210 reviews.
51.86%

11.70%

10.11%

6.91%

19.41%
Please rate between 1 to 5 stars
Showing 21-30 of 210 reviews
May 31, 2016
It was ok. Not the best, still worth your money. Go watch it. The movie is very dark. The fighting scenes were very short.
May 30, 2016
I am so glad I saw this movie at the cheap theatre. It had too many past life episodes, too many reflective periods. This movie could have been an hour shorter.
May 21, 2016
"Why did you say Martha?"
May 13, 2016
Very good uses a dark subject and makes it rock Jesse essinberg as Lex Luther was awesome the first appearance of Wonder Woman just makes it really fun
May 9, 2016
So bad. Superman can't get out of 10' of water with the staff, but he can pick it up and fly 1/4 of a mile with it in his hand. Worst movie I've seen in 5 years. When Batman shot him with the gas bombs, Superman, with his super speed could have easily got out of the way or used his breath to blow it away. So many more.
May 8, 2016
Superb.
May 7, 2016
So, basically, I didn't like Dawn Of Justice because as a comic book fan, it didn't relate to the comics. Also, BATMAN DON'T USE NO GUNS Y'ALL.
May 4, 2016
Terrible. Very disconnected. The writing was bad, the editing was bad. I don't even know if the acting was bad because there wasn't much the actors could do with all the randomness. It was basically a set up for sequels.
May 1, 2016
It would've been 5 stars if Jesse Eisenberg wasn't in it. Worst portrayal of Luthor and/or any villian in a superhero movie.
April 30, 2016
I LOVED IT!