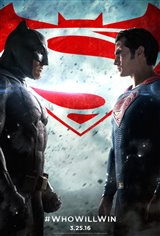 Batman v Superman: Dawn of Justice
210 Reviews
|
Write a Review
In Theaters: March 25, 2016
3.7/5
Based on 1146 votes and 210 reviews.
51.86%

11.70%

10.11%

6.91%

19.41%
Please rate between 1 to 5 stars
Showing 191-200 of 210 reviews
March 25, 2016
This movie was better than Star Wars. And for that I'm giving it 1 star.
March 25, 2016
Overly complicated, dragged, lacked action, emotion and drama. Bad editing changing shots every 5 seconds in first hour making it really hard to follow who is trying to do what.
March 25, 2016
The movie is garbage, don't listen to the reviews, they're just giving it 5 stars because it's Batman V Superman. Same people that gave sh*t Wars and The Hungry Games 5 stars because of the name.
March 25, 2016
What a piece of crap.
March 25, 2016
It's this year's Fantastic Four.
March 25, 2016
Worth Watching, Ben Affleck is a descent batman, Wonder Woman is awesome, nice setup for Justice League
March 24, 2016
Spoiler....Lex goes bald!!! Boom
March 24, 2016
Starts off great, then gets draggy. 2 1/2 is just too long. Still worth seeing and kids will love it.
March 24, 2016
A loud three hours of doom and gloom, this is as close to a non-movie as one could expect after the video game theatrics of Man of Steel. But stick through the credits for a tag scene with Halle Berry's Catwoman, the best part of this movie.
March 24, 2016
Ben Affleck is a really bad actor. If they have a sequel, please recast.