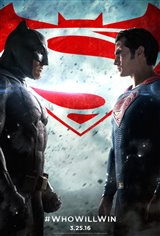 Batman v Superman: Dawn of Justice
210 Reviews
|
Write a Review
In Theaters: March 25, 2016
3.7/5
Based on 1146 votes and 210 reviews.
51.86%

11.70%

10.11%

6.91%

19.41%
Please rate between 1 to 5 stars
Showing 171-180 of 210 reviews
March 26, 2016
This movie was everything that a comic book fan could ask for!
March 26, 2016
Every comic fans dream.
March 26, 2016
BEN AFFLECK BATMAN!!! i was on the edge of my seat the whole time, nice to see that dialogue is important to DC, this movie was made for comic fans
March 26, 2016
This movie is insulting to the franchise. So boring I fell asleep.
March 26, 2016
Best superhero movie ever! 2nd half was better than any other movie ive seen!
March 26, 2016
The worst reviewed film of the year -- ZERO stars!
March 26, 2016
Loved it so much!! I can't wait for the extended version to come out on dvd. The showing I went to was sold out hours in advance, and I had to wait in line before being let into the theatre, and it was worth it. Being an avid comics reader I found a few moments in the film.....peculiar, like Eisenberg's portrayal of Lex Luther. My wife liked it far more than she expected to and can't figure out how someone could complain after seeing this movie. DC hero films have a much different feel from Marvel films, more adult oriented.
March 26, 2016
An incredibly fun movie to watch. An absolute blockbuster!
March 26, 2016
The best comic book movie since Green Lantern.
March 26, 2016
forgettable, terrible storytelling, shitty dialogue, Lex Luthor sucked, waste of money..reboot!