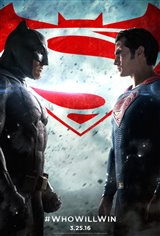 Batman v Superman: Dawn of Justice
3.7/5
Based on 1146 votes and 210 reviews.
Please rate between 1 to 5 stars
Showing 1-10 of 210 reviews
December 22, 2019
Movie was great just wish superman did not die but wonder woman was great . Bruce was good to like this movie 5 stars.
December 15, 2019
this is a really good dc movie and like the action and ending but just did not like when superman towards the end but still a great movie to watch .
May 18, 2019
AWESOME #BATMAN VS SUPERMAN!!!!!
September 25, 2017
silly hero movie with no decent plot
September 25, 2017
1 of the most boring,depressing,dull movies ever
September 25, 2017
. LAST BUT NOT LEAST - BEN AFFLECK/ BATMAN WOW WOW WOW ...Val Kilmer and George Clooney are breathing a collective sigh of relief after seeing this pile of steroid garbage take on the role of Batman. Yes after 2 long decades the monkey has been removed off of their backs...The worst possible Batman performance in history award can now be owned solely by Mr. Ben Affleck...Did anyone ever doubt him???
September 25, 2017
Jesse Eisenberg/ Lex Luthor - Wins the award for all time best over-acting a comic book villain since Willem Dafoe played the Green Goblin. After this heinous acting performance by Eisenberg, I am beginning to think Heath Ledger raised the bar too high for this new generation of Hollywood soft, pretentious pretty boy actors.
September 25, 2017
Jeremy Irons/ Alfred the butler - Holy cow man! This guy has been mailing it in for the better part of 2 decades (since Die Hard with a Vengeance). It seems the studio financiers felt the need to strengthen the budget here by slashing the Morgan Freeman and Michael Caine salaries allowing the 2 characters to morph into one, contemptible performance by a British actor with some real acting "chops"
September 25, 2017
Confusion - Early scenes will attempt to confuse the viewer (successfully) in order to tie together several gaping plot holes (unsuccessfully). The problem here is you can see these outcomes coming a mile away. The viewer is left feeling patronized and a lack of a decent script becomes evident, as a result.