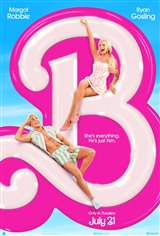 3.54/5
Based on 656 votes and 207 reviews.
Please rate between 1 to 5 stars
Showing 1-10 of 207 reviews
September 22, 2023
Great. Too smart for the plebs.
September 22, 2023
i would make Barbie into a horror flick to make it better because it was not funny and stupid...all the old Barbies from the 60s want to take the place of the new Barbie but the old Barbies are made of plastic and the new Barbie is a real women. they chase her through the streets like zombie Barbies trying to possess her and become a real women. The army is called in because there are just too many of them and they are causing havoc. There are too many of them and the army is in a losing battle. they have to use nukes but they have to get permission from Oppenheimer who's in a retirement home with dementia. i don't want to spoil the ending. the end
September 21, 2023
Different perspective of Barbie.
September 19, 2023
I loved it
September 17, 2023
Cannot believe someone thought it was funny.
September 17, 2023
Had high hopes…
September 16, 2023
What a load of drivel! Can't believe this movie has made so much money at the box office. Absolutely the worst movie I have ever seen. I have lost all respect for Ryan Rowling.
September 14, 2023
This movie has all the feels. Highs, lows and everything in between. The storyline is incredibly creative. So many one liners! It's a CLASSIC! 5 Stars!
September 14, 2023
Playful, colorful, creative, hilarious, emotionally connecting, and an under toned truth in many ways! SO many things happening here! Great acting by all the actresses & actors! Dancing was so fun! Thank you for making this film!
September 14, 2023
LOVED THE ARTWORK, SET DESIGN, WARDROBE, SONGS AND DANCE.